ABOUT THE WHITE – Behind the Light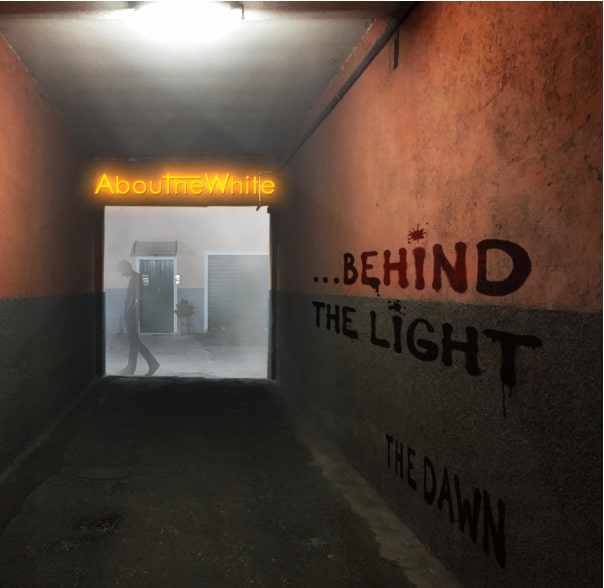 Si intitola BEHIND THE LIGHT l'EP di ABOUT THE WHITE, in ristampa dal prossimo 21 novembre per la Seahorse Recordings.
Behind the light è composto da cinque brani inediti e una cover dei The Dandy Warhols/Rolling Stones. Le influenze della band sono spaziano dai Cure ai Joy Division passando per il grunge dei Pearl Jam e i Soundgarden.
Il brano di apertura è Chris, una lettera a cuore aperto a Chris Cornell, leader dei Soundgarden e degli Audioslave morto nel 2017. L'intera traccia è un chiaro richiamo al suono sporco della scena di Seattle dell'inizio degli anni 90.
Il mood aggressivo della band continua nella traccia successiva, Move, Don't Move, con un suono distorto e un testo più ironico sulle relazioni d'amore.
Keep Standing Proud è l'unica canzone lenta dell'EP e ha un approccio più cupo sia nella musica che nel testo.
Leave è il primo singolo in cui la band torna a un sound più aggressivo e meno melodico, che lascia spazio a un testo più decadente che affronta il tema della perdita.
Dopo la doppia cover Bohemian Like You dei Dandy Warhols e Jumpin' Jack Flash dei Rolling Stones, rivestita di una veste più alternativa, la traccia di chiusura è Insane/The End che dipinge perfettamente l'apatia e l'immobilità dell'essere umano.
L'EP unisce i punti di forza della line-up: dalla potente voce baritonale di Luca, alle linee pulsanti del basso di Stefano e le note sapienti della chitarra di Davide.
La line-up si completa dopo le registrazioni del disco con Giorgio Marini alla batteria.
---
TRACKLIST:
Chris

Move, Don't Move

Keep Standing Proud
Leave
Bohemian Like You / Jumpin' Jack Flash
Insane / The End
---
Credits:
Luca Praino (voce e chitarra ritmica), Stefano Ermini (basso e seconda voce), Davide D'Apollonio (chitarra principale) e Giorgio Marini (batteria)
---
BIOGRAFIA:
Gli About The White si sono formati all'inizio del 2018 dall'iniziativa di tre amici: Luca Praino, Stefano Ermini e Davide D'Apollonio. I tre condividono una fortissima passione per la musica internazionale e dimostrano anche in questo EP la grande passione per la musica alternativa e il post-punk/new wave, fino ad artisti contemporanei come Arctic Monkeys, Jack White, Queens of The Stone Age, John Butler Trio and Rival Sons.
Sin dall'inizio, gli About the White hanno un approccio molto moderno e motivato alla composizione di nuova musica: tutti e tre i membri scrivono sia testi che musica.