Her Skin – Head Above the Deep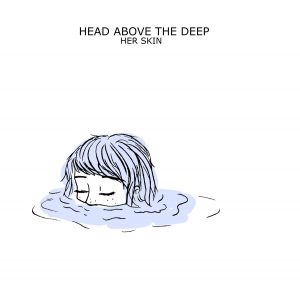 Se avessi a disposizione una sola parola per descrivere la musica di Sara Ammendolia, in arte Her Skin, sceglierei d'istinto l'aggettivo "delicata". Le sue canzoni colpiscono perché sono minimali e immediate; nella loro semplicità sono in grado di evocare atmosfere rarefatte, sognanti e malinconiche. Il suono è quello pulito, nudo, nitido della chitarra acustica (e a volte dell'ukulele), il che avvicina Her Skin più alla tradizione cantautorale folk anglosassone o nordeuropea, che a quella nostrana. Her Skin ha già all'attivo due EP, "Goodbyes and Endings" (2015) e "Head Above the Deep" (uscito nel 2016 per Tempura Dischi), che la giovanissima songwriter modenese sta presentando nei circoli di tutta Italia, in un tour fitto di date e chilometri ("4122 chilometri in una Micra bianca", precisa Sara sulla sua fan page su Facebook).
"Head Above the Deep" si apre con la traccia "The Colder Months" e il suo arpeggio spensierato. Questa canzone brevissima (dura appena un minuto e mezzo) si conclude a sorpresa subito dopo la seconda strofa, senza ripetere il ritornello e restando quasi sospesa nell'aria, insieme alla voce incantevole di Sara. Segue il brano "Heartbeats", il cui testo intimo e commovente si sposa con la ritmica sostenuta dalla chitarra, le corde pizzicate come battiti del cuore, e l'eco degli archi in sottofondo. La terza traccia, intitolata "New Orleans", è forse il brano che maggiormente resta impresso di "Head Above the Deep". Senza perdere in freschezza – fil rouge dell'intero EP – in questa canzone più che in altre è evidente l'attenzione verso soluzioni sonore ricercate. L'arpeggio e lo strumming alternati, la doppia voce utilizzata in quasi tutto il brano, una melodia originale ed emozionante, sono tutti elementi che dimostrano un livello di maturità artistica soprendente, data la giovane età della cantautrice e del suo progetto.
A seguire abbiamo la title track del disco, "Head Above the Deep", in cui il suono delicato e giocoso dell'ukulele accompagna un testo toccante e malinconico, che è un po' il riassunto delle tematiche trattate nell'album. Sette canzoni che parlano di mancanze e assenze, di voglia di scappare e bisogno di tornare. Ricordi, silenzi e sentimenti, paesaggi e sogni… insomma, tutto quello che ci fa restare tenacemente a galla, con la testa appena sopra il filo dell'acqua. L'EP prosegue con un altro brano dall'arpeggio gentile, "Softest Skin", a metà tra una ballad e una ninna-nanna, per poi chiudersi con "Cut Out the Flowers", in cui nuovamente Sara riprende in mano l'ukulele, e con la traccia ironicamente intitolata "The Hidden Track at the End of the Record".
"Head Above the Deep" è un lavoro curato e sentito, a tratti ancora acerbo forse, ma in fondo è il suo bello. Sicuramente è un disco che s'infila sotto la pelle e un ottimo punto di partenza per una cantautrice e un progetto musicale da non perdere di vista. Di Her Skin abbiamo la sensazione che continueremo a sentir parlare.
---
Her Skin – Head above the deep
Tempura Dischi – Maggio 2016
Registrato, mixato e masterizzato da Bruno Mari
Tutti i testi sono stati scritti da Her Skin (Sara Ammendolia)
Track List:
The Colder Months
Heartbeats
New Orleans
Head Above the Deep
Softest Skin
Cut Out the Flowers
The Hidden Track at the End of the Record
Contatti:
web | https://www.diysco.com/profile/her-skin/
soundcloud | https://soundcloud.com/herskinmusic
facebook | https://www.facebook.com/herskinmusic
instagram | https://instagram.com/amm.sara