Firenze, un'estate all'insegna del rock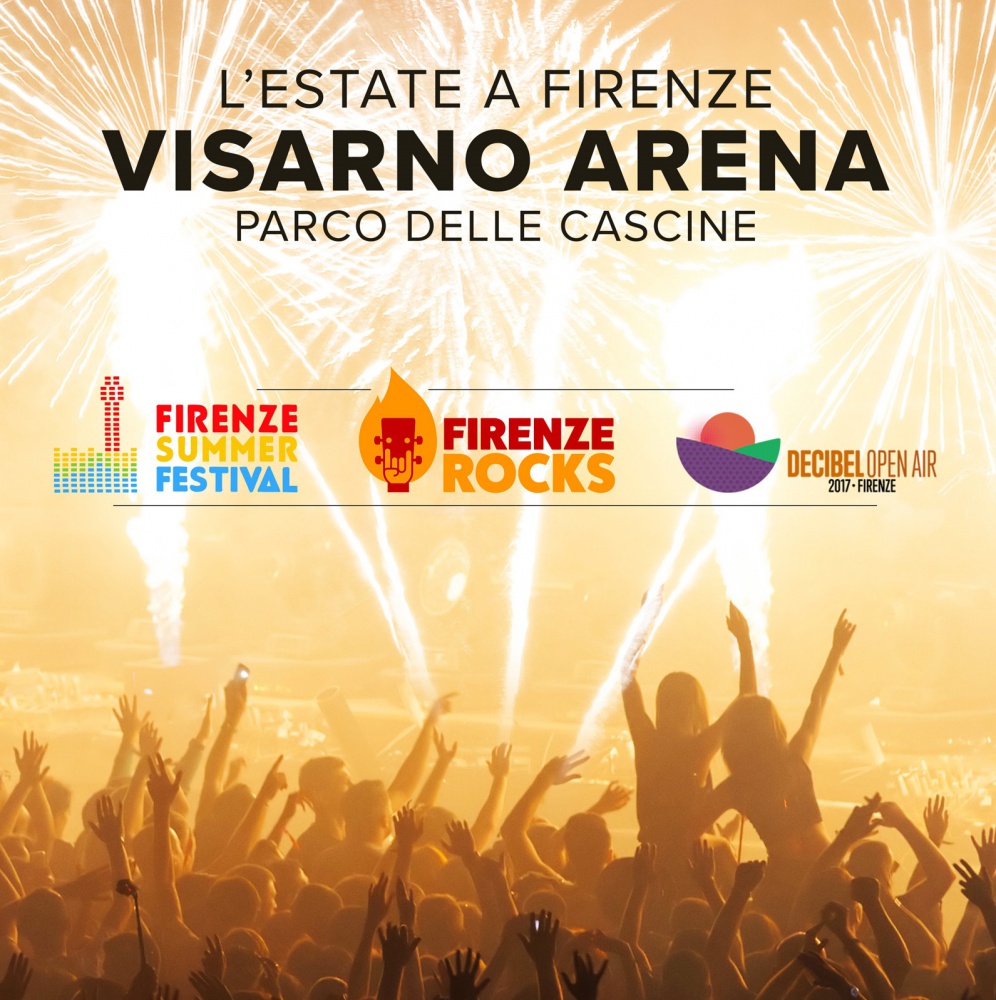 Sarà una vera e propria hall of fame del rock, pop e metal, quella che sbarcherà tra giugno e luglio alla Visarno Arena di Firenze, nel Parco delle Cascine, a soli due chilometri dal centro della città.
Radiohead, James Blake, Aerosmith, Placebo, Eddie Vedder, The Cranberries, System Of A Down, Prophets Of Rage, The XX, Jamiroquai e Arcade Fire sono solo alcuni dei grandi nomi che saliranno sul palco di Firenze Rocks e Firenze Summer Festival, le due rassegne di musica dal vivo che incendieranno l'estate 2017, dove sono attesi oltre 200.000 spettatori da tutta Europa.
Saranno i Radiohead ad aprire le danze del Firenze Summer Festival il 14 giugno, accompagnati da James Blake e Junun feat. Shye Ben Tzur & The Rajasthan Express. Si proseguirà poi con i The XX, i Jamiroquai e con il ritorno degli Arcade Fire, che chiuderanno il festival.
Firenze Rocks seguirà invece la tradizione dei grandi festival europei. Sarà infatti una tre giorni mozzafiato, dal 23 al 25 giugno. Si inizierà col botto, con il live degli Aerosmith, che hanno scelto Firenze Rocks per presentare il loro attesissimo "Aero-Vederci Baby" (il tour per congedarsi dalle scene). Nella stessa giornata saliranno sul palco anche i Placebo e i Deaf Havana. Sabato 24 giugno sarà la volta di Eddie Vedder, voce e anima dei Pearl Jam; in apertura The Cranberries di Dolores O'Riordan e Glen Hansard. Il festival si chiuderà domenica 25 giugno nel segno dell'alt metal, con i System Of A Down e i Prophets Of Rage.
Infine la Visarno Arena ospiterà quest'estate anche la maratona di elettronica Decibel open air 2017 di sabato 1 luglio, con headliner i Chemical Brothers (dj-set), Dubfire e Alan Fitzpatrick.
---
Di seguito il calendario completo degli eventi:
FIRENZE SUMMER FESTIVAL:
RADIOHEAD / JAMES BLAKE / JUNUN – 14 giugno
THE XX – 8 luglio
JAMIROQUAI – 11 luglio
ARCADE FIRE – 18 luglio
FIRENZE ROCKS:
AEROSMITH / PLACEBO / DEAF HAVANA – 23 giugno
EDDIE VEDDER / THE CRANBERRIES / GLEN HANSARD – 24 giugno
SYSTEM OF A DOWN / PROPHETS OF RAGE – 25 giugno
DECIBEL OPEN AIR 2017:
THE CHEMICAL BROTHERS / DUBFIRE / ALAN FITZPATRICK – 1  luglio
I biglietti per Firenze Summer Festival e Firenze Rocks sono in prevendita su www.ticketone.it. Per Decibel Open Air 2017 su www.diyticket.it.
LINK: