Sun of a Beach riapre i cancelli!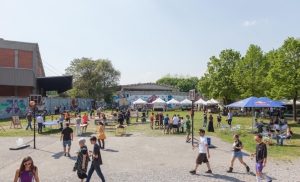 Il giardino di Via Cigna 211, grazie alla confluenza delle esperienze degli storici club di Torino sPAZIO211 e BLAH BLAH, dal 18 giugno al 26 settembre torna a farsi palcoscenico aperto a tutta la Città, proponendo uno sguardo nuovo ed insolito sulle geografie e le storie del passato, del presente e del futuro, attraverso una programmazione quotidiana che, oltre all'esibizione delle punte di diamante del panorama artistico nazionale, vedrà intervallarsi concerti acustici, letture di prosa e poesia, proiezioni ed esposizioni di arte visiva, per ritrovare insieme ciò che sembrava andato perduto.
Una grande arena spettacoli da 600 posti in cui assistere in sicurezza agli oltre 20 grandi eventi – alcuni dei quali vedono anche una inedita collaborazione con altre affermate realtà culturali torinesi (tra cui Off Topic e Hiroshima Mon Amour) – che vedranno alternarsi leggende della scena musicale underground italiana ed internazionale (TRE ALLEGRI RAGAZZI MORTI, PUNKREAS, BOLOGNA VIOLENTA, BACHI DA PIETRA, ASSALTI FRONTALI, CYBORGS, OVO, UOCHI TOCHI, LILY REFRAIN, ROCK'N'ROLL KAMIKAZES, THE GOOD FELLAS e tantissimi altri), esponenti tra i più estroversi della nuova leva cantautorale ed elettronica, performance degli interpreti della stand up comedy e del mondo della magia e dell'illusionismo, senza trascurare le proposte dei giovani artisti emergenti.
La spiaggia urbana dove godersi momenti di evasione a km 0, dove sorseggiare i cocktail dei nostri bartender o godersi le proposte culinarie, che pescano tra la tradizione romana e quella piemontese, del nostro punto ristoro.
Tutto sempre condito dall'atmosfera e dalle selezioni artistiche e musicali che da oltre vent'anni rilasciano l'ossigeno di cui si nutre sPAZIO211.
Sarà presto pubblicato il programma completo.
Nel frattempo siamo lieti di annunciare:
Venerdì 18 giugno
PUNKREAS – Funny Goes Acoustic
Domenica 20 giugno
ON STAGE LIVE saggio musicale
Domenica 27 giugno
HOUSE OF ROCK 10 ANNI
Martedì 29 giugno
LA FESTA DEL GRAZIE
«Si sente il calore tipico della festa del grazie»
w/ many artists TBA
Venerdì 9 luglio
BULL BRIGADE
Sabato 10 luglio
TOHORROR FILM FESTIVAL
Giovedì15 luglio
JOZEF VAN WISSEM + MARIA VALENTINA CHIRICO
Venerdì 16 luglio
ASSALTI FRONTALI
Sabato 17 luglio
GO DOWN RECORDS PARTY:
NOT MOVING // THE LU SILVER STRING BAND // CONNY OCHS // SOAB
Sabato 24 luglio
D.U.I. FEST (Driving Under the Influence)
w/ CYBORGS // OTTONE PESANTE // OVO // UOCHI TOCHI // ELLI DE MON // ALDO
Domenica 25 luglio
D.U.I. FEST (Driving Under the Influence)
BACHI DA PIETRA//BOLOGNA VIOLENTA // LARSEN // LILY REFRAIN // ONE MAN 100% BLUES // ANNOZERO
Martedì 7 settembre
HEATHEN APOSTLES (members from CRAMPS)
+ BLUES AGAINST YOUTH
Domenica 12 settembre
CACHEMIRE
Venerdì 17 settembre
KILLING MOON w/ PANKOW
Sabato 18 settembre
RETRO VILLAGE
w/ MIDNIGHT KING // ROCK'N'ROLL KAMIKAZES // THE GOOD FELLAS
+ Burlesque Show
Domenica 19 settembre
RETRO VILLAGE
w/ SURFER JOE // HOWLIN LOU & HIS WHIP LOVERS
+ more TBA
…….
…….
…….
+ altri artisti da annunciare