NEUROPA FESTIVAL – wave/dark/industrial music festival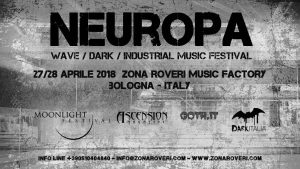 Zona Roveri Music Factory, in collaborazione con Rock Planet Clubed Hellfire Booking è lieta di annunciare la prima edizione del NEUROPA FESTIVAL, rassegna di musica dark, new wave, post-punk, industrial. La città di Bologna si è caratterizzata, durante gli anni 80, come polo culturale di importanza rilevante a livello europeo (la Berlino italiana veniva chiamata allora). Insieme a Firenze e Pordenone è stata la fucina della "nuova musica indipendente" italiana distinguendosi per la quantità e, soprattutto, per la qualità delle proposte musicali nate in quel periodo. Oggi, a distanza di 30 anni, Zona Roveri Music Factory si appresta ad organizzare un festival musicale tematico per celebrare quel periodo indimenticabile ed irripetibile.
Un evento imperniato quindi su alcune delle band che hanno calcato, in modo significativo, la scena dell'epoca ma che ancora oggi sono in attività : Gang of Four, New Model Army, Young Gods, ed altri nomi che verranno annunciati quanto prima, si alterneranno sul palco di Zona Roveri per farci rivivere le atmosfere, il mood ed i "sapori" di quell'epoca.
Oltre a questi "mostri sacri" della scena indipendente internazionale dell'epoca, a breve verrà annunciata la presenza sul palco del festival di una delle più importanti, controverse e contraddittorie band italiane di quel periodo che presenterà in anteprima il nuovo progetto in uscita ad inizio 2018.
La manifestazione, si svolgerà a BOLOGNA il 27 ed il 28 aprile 2018 presso Zona Roveri Music Factory.
Un carosello di nomi leggendari e gruppi "contemporanei" legati dal comune denominatore della ricerca antiaccademica nella grammatica musicale. Oltre all'aspetto musicale, il festival ha la prerogativa di coniugare la magia della musica "non convenzionale" con appuntamenti culturali quali conferenze, presentazioni di libri, mostre d'arte e fotografia.
LINE UP (provvisioria)
GANG OF FOUR (UK)
NEW MODEL ARMY (UK)
YOUNG GODS (UK)
CLIENT(UK)
A seguire Dj set di stampo rigorosamente 80's con alcuni dei DJs di riferimento della scena wave/dark nazionale.
Open Air Zona Roveri | Market Area & Food, Cd's, Lp's, Dvd's, Rarities, Memorabilia, T-shirts, shoes, accessories, clothing and much more.
Convenzioni per vitto/alloggio dedicate agli acquirenti dell'abbonamento per le due giornate.