Holydays Festival 2019: tra i boschi dell'Umbria oltre venti artisti da tutto il mondo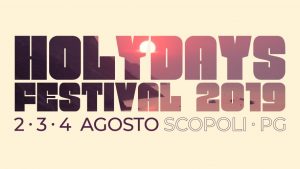 Festival da sempre attento alle sonorità più disparate, con artisti provenienti da tutto il mondo (dalla Francia alla Colombia, dagli Stati Uniti al Qatar fino alla Corea del Sud), Holydays Festival continua a scegliere una diversa location a ogni edizione: nel 2019 ospiterà live acts da tre continenti a Scopoli (PG), piccolo borgo quattrocentesco situato nel cuore della Valle del Menotre. Tre giorni completamente gratuiti di live, dj set e arti visive dal 2 al 4 agosto, oltre 20 artisti del panorama internazionale.
Luogo poco battuto dai sentieri turistici, nonostante sia situato a pochi chilometri dalla ben più nota Rasiglia, Scopoli è uno scenario unico dal punto di vista paesaggistico: un piccolo borgo immerso tra i boschi, quasi una scoperta inaspettata nascosta nel verde. La line up, selezionata con un anno di anticipo contattando direttamente gli artisti, è concepita in accordo con le caratteristiche del contesto e articolata in modo tale che il pubblico possa vivere l'esperienza live in armonia con la location e con lo scorrere delle diverse ore del giorno, nel rispetto dell'ascolto individuale.
Tra i nomi internazionali in programma, Larry Gus (Grecia – 3 agosto), che torna sulle scene a settembre 2019 con un nuovo disco, dopo tre anni di silenzio: il concerto a Scopoli sarà l'occasione per presentare in anteprima il nuovo materiale con un show performativo interamente analogico. E ancora L'Eclair (Svizzera – 3 agosto), giovanissimo sestetto che definisce il proprio sound «kraut-exo-soul-brutal-funk-turkish-groove», Don The Tiger (Spagna/Germania – 4 agosto), che si esibirà in duo con un repertorio che reinterpreta la musica popolare in lingua spagnola, The Tambles (Olanda – 2 agosto), veri e propri cultori del rock 'n' roll d'annata, alla prima esperienza discografica, Xanducero + San Ignacio (Uruguay/Argentina – 3 agosto).
Tra gli italiani Holiday Inn, minimal synth-punk da Roma Est (2 agosto); Wow, reduci dalla recente uscita dell'ultimo album 'Come la notte', (2 agosto); Don Karate (3 agosto), progetto del batterista Stefano Tamborrino tra elettronica, atmosfere cinematografiche, jazz e hip hop, che sarà presentato in quartetto; il rapper di origini etiopi Avex (3 agosto), già ospite del Montreaux Jazz Festival.
Per gli ospiti del festival saranno a disposizione un'area campeggio attrezzata, bungalows, un'area ristoro, market con merchandising, artigianato e autoproduzioni, attività sportive e passeggiate sulle montagne. Una caratteristica di assoluta originalità di Holydays festival è il tentativo di creare una "piccola comunità" in cui pubblico e artisti condivideranno spazi e quotidianità: i musicisti saranno ospitati nelle stesse strutture dell'area camping e dei bungalows, vivendo i tre giorni fianco a fianco con il pubblico. Una comunità di cui la popolazione di Scopoli è parte integrante: durante i mesi di preparazione a Holydays, la cittadinanza del luogo è stata coinvolta attivamente nell'organizzazione del festival, per unire in un'unica esperienza chi vive abitualmente il borgo e chi lo scoprirà grazie alla musica.
Venerdi 2 agosto
The Tambles
Holiday Inn
Wow
Lupetto
Rocco Zulevi
Elena Annibali
SPAF Combo
Il Lercio
Sabato 3 agosto
Larry Gus
L'Eclair
Don Karate
Avex
Xanducero
Carniceria
Pinchado
Orchestra Moderna
Shawala
Domenica 4 agosto
Don The Tiger
Guenter Raler
Atalaya
Enrico Zanisi
San Ignacio
SSiege
Pulsar
Leonardo Martelli
Afro Templum Armada