BORN TO FLY – POWER METAL FESTIVAL 2019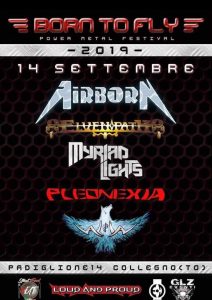 ll 14 settembre 2019 ritorna, nella sua terza edizione, il " Born To Fly – Power Metal Festival" .
Promossa dagli Airborn in collaborazione con GLZ Eventi , la manifestazione porterà ancora una volta, sul palco del Padiglione 14 di Collegno (TO), band storiche del genere, italiane e straniere, insieme a nuove promesse da non perdere.
La bill di quest'anno prevede:
● AIRBORN (Torino, Italia)
● ELVENPATH (Francoforte, Germania) – special guest
● MYRIAD LIGHTS (Milano, Italia)
● PLEONEXIA (Torino, Italia)
● ALIA (Torino, Italia)
I biglietti sono attualmente disponibili in prevendita e senza costi aggiuntivi sullo store online degli Airborn
all'indirizzo: https://airborn.bigcartel.com/product/born-to-fly-pwer-metal-festival-2019-prevendita , ma sarà
possibile acquistarli anche sul posto la sera del concerto.
Come sempre saranno presenti stand tematici e un punto street food, per cenare in loco e non perdersi
nessuna delle band.