A Melodic Rock Night 3: tutti i dettagli dell'attesa terza edizione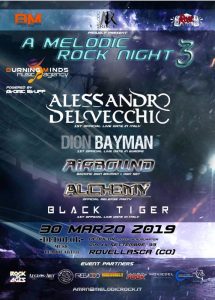 Melodicrock.it, in collaborazione con Burning Minds Music Group e Rock Temple, sono orgogliosi di annunciare la terza edizione ufficiale di "A Melodic Rock Night"! Dopo il successo delle prime due edizioni, "A Melodic Rock Night 3" si terrà ancora una volta al Dedolor Music Headquarter di Rovellasca (CO). Gli artisti Italiani rappresenteranno nuovamente lo show principale dell'evento, e divideranno il palco con due esclusivi nomi esteri per completare una grande serata di brillante melodic rock.
Per la prima volta in Italia, Alessandro Del Vecchio e la sua band calcheranno il palco con l'obiettivo di presentare un entusiasmante set, composto da brani provenienti da alcuni dei più acclamati progetti da lui prodotti nel corso degli anni. Alessandro si disimpegnerà in prima persona in qualità di frontman mostrando ancora una volta le sue notevoli qualità vocali, suonando inoltre anche le parti di tastiere durante l'esecuzione delle sue migliori canzoni scritte per nomi acclamati come Revolution Saints, Hardline, Jorn, Edge Of Forever ed altri (tutte presentate nella loro forma originale).
La seconda grande esclusiva dell'evento è rappresentata dall'esordio ufficiale in territorio europeo del rocker Australiano Dion Bayman. Forte degli unanimi apprezzamenti ricevuti da stampa e fans in relazione al proprio ultimo album "Better Days", Dion offrirà a tutti i presenti un meraviglioso viaggio attraverso la sua discografia, presentando brani tratti da tutti e quattro i suoi album in studio. Per l'occasione Dion Bayman sarà supportato dal talento esecutivo dei nuovi alfieri del rock melodico Italiano, gli Airbound, che intratterranno il pubblico anche con un proprio set di brani provenienti dal loro ottimo debut album.
Ma le sorprese non sono finite! I melodic hard-rocker Alchemy, infatti, celebreranno l'uscita del loro nuovo studio album (in arrivo a Marzo su Street Symphonies Records) con quella che è già destinata a diventare una rombante performance live. L'album, prodotto da Pierpaolo "Zorro" Monti, è attualmente nella sua fase finale di mix/mastering da parte di Roberto Priori (Danger Zone, Raintimes, Wheels Of Fire), e promette di diventare una delle uscite più discusse di questo 2019 da parte di tutti i fans dell'hard-rock melodico ma graffiante allo stesso tempo.
L'ultima aggiunta esclusiva della serata, direttamente dalla Repubblica Ceca, è rappresentata dai melodic rocker Black Tiger. La band, capitanata dal frontman Jan Trbusek, presenterà alcuni dei migliori brani estratti dal proprio debut album, prodotto da Mario Percudani (Hungryheart, Hardline), e rilasciato di recente tramite Freemood Promotions. Ospite speciale alla batteria sarà Paolo Botteschi (Hungryheart).