Just For Taste: il nuovo album dei Là Nua!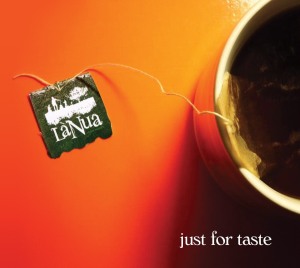 "Abbiamo debuttato nel 2011 e rispetto agli esordi oggi le nostre fonti sono più varie: alla musica irlandese, nostro orizzonte di partenza, si sono aggiunte strada facendo danze bretoni e bulgare, ritmi manouche, armonie e ritmi contemporanei, e sempre più nostre composizioni originali. La scelta di brani dalle origini così varie è dettata sempre dal nostro gusto e dal fatto che essi vi si "intonino" alla perfezione: come recita il titolo del nuovo disco, Just for Taste!". A due anni di distanza dall'apprezzato album d'esordio, i Là Nua tornano con un lavoro che definisce la loro personalità e ipotizza nuovi percorsi sonori: già dal titolo e dalla copertina, Just For Taste rimanda a una musica fragrante, speziata, ricca di aromi e profumi, dall'Irlanda ai Balcani, dalla musicalità manouche al rock virato in acustico, un progetto "alternative-trad" che offre una versione diversa alla solita rielaborazione di materiale tradizionale.
Nato nel 2011 e subito lanciato in una ricca e soddisfacente avventura live, il trio campano approfondisce la ricerca della musica tradizionale irlandese con una scelta interamente strumentale, che non disdegna – anzi valorizza e incoraggia – sguardi e contatti con altri riferimenti culturali e musicali. "Il primo album – dichiarano i Là Nua – era quasi totalmente dedicato alla musica irlandese, pur sempre rivisitata, ma probabilmente in maniera meno personale rispetto a Just For Taste, che è stato realizzato in un arco di tempo maggiore. Dal punto di vista tecnico poi, mentre il primo è stato registrato praticamente dal vivo, Just For Taste ha avuto una produzione per così dire più "moderna"; a parte Twinkle of January, tutti gli altri pezzi sono stati registrati a tracce, cercando comunque di mantenere inalterato il feeling live".
Il gusto dei tre musicisti ha ispirato la composizione della tracklist: brani classici (Farewell to Erin e The Hag at the Churn) e contemporanei (Horizonto e Superfly), esperimenti tra melodie irish e ritmi manouche (The Gipsy Reel), riletture di Planxty e Jethro Tull (Planxty Irwin e Velvet Green) e quattro brani propri (Rue d'Anvers, Barry's Hug, Zio Antonio is back Home e Twinkle of January) che fotografano l'evoluzione dei Là Nua anche come autori. Pubblicato e distribuito da Rox Records – etichetta particolarmente attenta alla scena acustica e ai generi world, folk, neo-trad e bal folk – Just For Taste è stato interamente realizzato negli studi The Basement di Gesualdo (AV), sotto la simbolica ombra del castello del "Principe dei Musici" Carlo Gesualdo.