AIRBORN, TORNANO DAL VIVO CON IL BORN TO FLY FESTIVAL 2021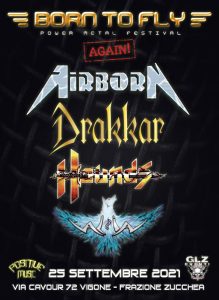 Dopo una pausa forzata di più di un anno e mezzo a causa dello stop imposto alle attività artistiche, i Torinesi Airborn annunciano il ritorno dal vivo. L'occasione sarà quella del Born To Fly – Power Metal Festival, da loro concepito e organizzato con la collaborazione di GLZ Eventi, giunto quest'anno alla IV edizione dopo quella mancata del 2020. Il festival si svolgerà sabato 25 settembre e vedrà per la prima volta un cambio di location, passando dalla tradizionale cornice del Padiglione 14 di Collegno a quella della Positive Music di Vigone (TO). Ancora una volta protagonista la scena Heavy/Power di Torino e Milano, con conferme di grande livello e novità dall'underground sabaudo.
Con questo importante ritorno sul palco, gli Airborn festeggeranno insieme al pubblico i 25 anni di carriera raggiunti nel 2020 in pieno lockdown. Per l'occasione presenteranno ufficialmente il live album e DVD "Live Animals" appena pubblicato e, per la prima volta dal vivo dopo l'uscita nel dicembre scorso, alcuni brani dall'ultimo full-length e secondo capitolo della trilogia "Lizard Secrets Part Two – Age of Wonder".
Born To Fly – Power Metal Festival – 2021
Sabato 25 settembre
POSITIVE MUSIC – via Cavour 72, frazione Zucchea, Vigone (TO)
Apertura porte: 19.30
Inizio concerti: 20.00
PRENOTAZIONE OBBLIGATORIA
IMPORTANTE: a causa delle restrizioni e dei regolamenti anti Covid ancora vigenti, l'ingresso sarà consentito esclusivamente previa prenotazione. Dettagli e procedura di adesione al seguente link: https://www.facebook.com/events/836586507247478
AIRBORN – Torino https://www.facebook.com/Airbornband
DRAKKAR – Milano https://www.facebook.com/drakkarmetal
HOUNDS – Torino https://www.instagram.com/houndsmetal/
ALIA – Torino https://www.facebook.com/aliametalband