God Is An Astronaut, il live all'Estragon Club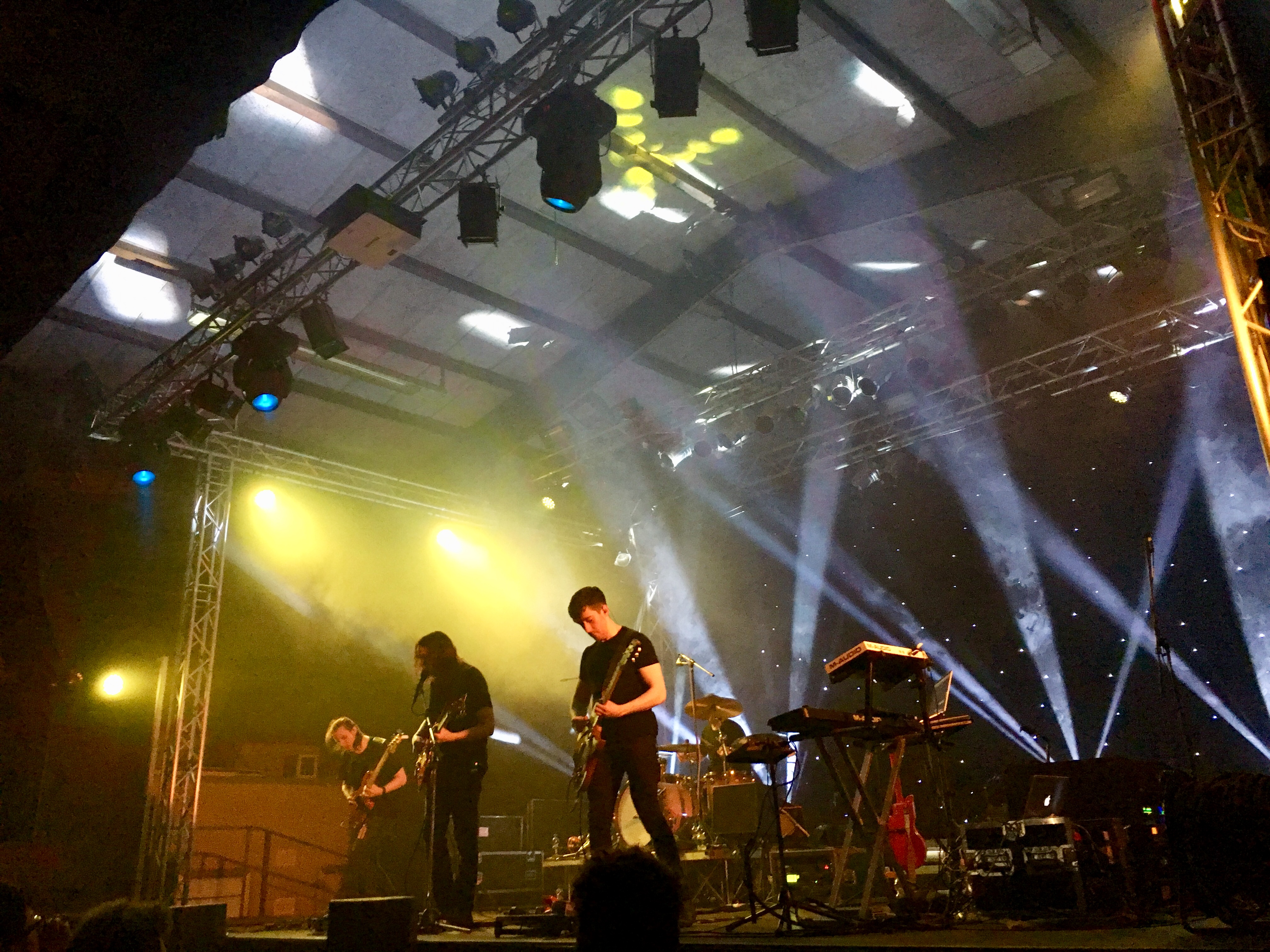 Salgono alla spicciolata, alzando il braccio timidamente in segno di saluto. I primi a prendere posto sul palco dell'Estragon Club sono il bassista Niels Kinsella e il polistrumentista Robert Murphy, che sta accompagnando il trio irlandese nel tour. Li raggiunge poco dopo Lloyd Hanney, accomodandosi dietro la batteria, e, per ultimo, Torsten Kinsella, fondatore dei God Is An Astronaut insieme al fratello gemello.
Non vola una mosca, il pubblico trattiene il fiato, in attesa. Il palco è in ombra e il look total black dei musicisti non aiuta a distinguerli dallo sfondo, un cielo profondo e pieno di stelle, che trascina subito gli spettatori in uno spazio onirico, intergalattico. D'altra parte chi è stato a un concerto dei God Is An Astronaut lo sa: l'unica cosa che davvero conta è la musica. Anche i fasci di luce alle loro spalle non fanno altro che rendere le figure ancora più eteree e confuse.
Il concerto si apre con la title track dell'ultimo lavoro, "Epitaph". Epitaffio, elogio funebre. Un nome cupo, che presenta senza tanti giri di parole il filo conduttore del disco, ispirato dalla morte di persone care ai musicisti. Un album che è omaggio alla potenza della memoria e al dolore della perdita. Segue, senza soluzione di continuità, "Mortal Coil" (anche questo tratto da "Epitaph"), prima di fare un tuffo nel passato, agli esordi della band, con "The End of the Beginning" e "Frozen Twilight".
La scaletta attinge a tutto il repertorio dei God Is An Astronaut per l'intera durata del concerto. Parecchie sono le tracce tratte dal bellissimo album "All Is Violent, All Is Bright". Dall'immancabile title track a "Fragile", da "Forever Lost" a "Suicide By Star", canzone ispirata dal produttore e musicista statunitense Phil Spector (l'uomo fu condannato per l'omicidio della modella e attrice Lana Clarkson; secondo Spector si trattò di un suicidio accidentale).
"Medea" e l'incantevole arpeggio di chitarra di "Seance Room" ci riportano nel cuore dell'ultimo disco, dove il riverbero lascia il posto a un caos rabbioso di power chords e synth. Non è possibile prevedere quando il climax dei brani raggiungerà l'apice, quando il suono esploderà e si farà più aggressivo, grintoso. L'importante è lasciarsi guidare dalle suggestioni senza pensare al punto di arrivo, immergersi nelle atmosfere che la musica evoca, lasciando la mente libera di vagare insieme ai giochi di luce.
Chiudono il live due pezzi tratti dal penultimo album dei God Is An Astronaut, "Centralia" e la title track "Helios / Erebus", unico bis in una serata da lasciare a bocca aperta non solo i musicisti, gli appassionati dei virtuosismi tecnici, ma anche – e per fortuna – chi è venuto per lasciarsi emozionare dalla potenza del prog-rock strumentale della band irlandese.
Setlist:
Epitaph
Mortal Coil
The End of the Beginning
Frozen Twilight
All Is Violent, All Is Bright
Fragile
Seance Room
Medea
Forever Lost
Suicide By Star
Dust and Echoes
Centralia
BIS: Helios | Erebus